Clinical Laboratory Science Internship
Since 1977, the San Francisco State University Clinical Laboratory Science (CLS) Internship Program has been training post-baccalaureate candidates for rewarding careers in medical laboratories, clinics and biomedical research environments.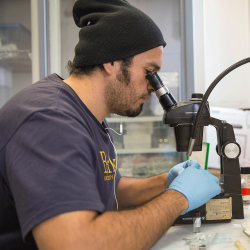 Clinical Laboratory Science
Visit the CLS program website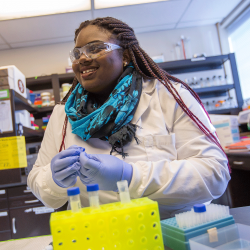 Advising
Schedule an advising session on the CLS website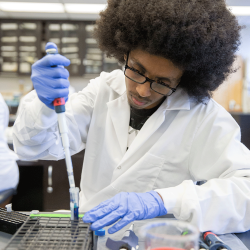 Get Started
Find out how to apply on the CLS website
About the Program
Overview
The program offers expert guidance, both on campus and at affiliated clinical sites. The first semester on campus includes (5) courses specifically designed for CLS training. The remaining 40 weeks are spent at affiliated clinical sites, completing internship. Once finished, interns are eligible to challenge the California State and National examinations for required licensure. A new class of CLS interns starts on campus every fall and spring session.
Visit the Clinical Laboratory Science Program website for more information.
Clinical Laboratory Scientist Career
The job responsibilities of a Clinical Lab Scientist involve the collection and analysis of body fluids, tissues and cells in order to diagnose diseases and monitor the progress of treatments. Advances in molecular diagnostics and cryopreservation are welcoming new surroundings for licensed CLS. The US Bureau of Labor Statistics projects 11% growth for clinical laboratory technologists and technicians from 2018 to 2028, much faster than average.
Licensure and Certification
Please read the Cal State Notice to Students RE: Professional Licensure and Certification.
Candidate Requirements
Candidates must have post-baccalaureate degrees in biological science majors including Clinical Science, Microbiology, Biology or equivalent. Additional academic eligibility requirements include GPA 3.0 or above and additional courses in Immunology, Medical Microbiology, Hematology, Biochemistry and Quantitative Analysis, 3 semester units of Physics and College level mathematics.
Cost and Length
Cost: $15,200 (38 units at $400 per unit)
Length: 14 months
When to Start: Fall, Spring
Contact
Clinical Laboratory Science Program
Nanette Dupont
(415) 338-2332
sfsucls@sfsu.edu
Location
Main Campus
1600 Holloway Avenue - SCI 202
San Francisco, California 94132-4161
College of Professional & Global Education
Janet Alford
Program Lead
(415) 817-4264
jalford@sfsu.edu
Isabel Seiden
Program Coordinator
(415) 817-4220
iseiden@sfsu.edu