American Language Institute
The American Language Institute (ALI) has been helping students reach their personal and professional goals since 1961. At the ALI, you will have high-quality English language instruction, enthusiastic teachers and plenty of support to help you get the most out of your time in San Francisco.
English for Academic Preparation
Learn English skills to prepare for American colleges and universities
Learn online from your home country during the pandemic
Offered in fall, spring and summer
Conditional admission to SF State
Conditional Admission
For students seeking admission to SF State, who need to improve their English
Two possible TOEFL waivers — receive either waiver without completing the highest ALI level
Apply to SF State after deadlines have passed
Receive assistance with your application
San Francisco Discover
Improve your spoken English
Two- to four-week programs
Student visa not required
Visit innovative companies, universities and San Francisco neighborhoods
Offered multiple times per year
Gateway: English + University Credit Studies
Improve your English and academic skills for university success
Take an SF State course for credit
Receive support to understand and complete your university course assignments
Level 90: The highest English level of English for Academic Preparation
TOEFL Test Preparation
Get the confidence, skills and familiarity to excel on the iBT TOEFL
Learn test-taking strategies
Review practice tests
Interact with English-speaking instructor and peers to improve your Academic English skills
Offered in spring and fall
PDPI Brazil English Teachers Program
Customized program, tailored to client needs
Six-week program
Professional development for English teachers from Brazil
Teachers study English language and TEFL methodology
Exposure to U.S. culture and society
Online Courses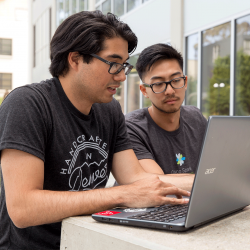 Offered Online for Spring & Winter 2021
Center for Global Engagement
The San Francisco State University American Language Institute is part of the College of Extended Learning's Center for Global Engagement.
Center for Global Engagement
The Center for Global Engagement provides international students and professional groups unparalleled access to pursue rigorous academic education, cutting-edge professional development and enriching cultural exploration at an American university.
 
College of Extended Learning
The College of Extended Learning offers a wide variety of continuing adult education courses and programs to prepare you for career advancement, career change or personal growth. We offer weekend, evening and online courses, international education and access to thousands of transferable degree-credit University classes.
San Francisco State University
San Francisco State University (SF State) is committed to providing innovative, high-quality undergraduate and graduate programs for students, as well as continuing and professional educational opportunities. SF State educates 30,000 students, including 1,800 international students from over 100 countries each year.
What Students Say
Ane, Spain
"At the ALI, I learned how to communicate with English and not just memorize rules. This made my classes so fun. Also I made friends from all over the world."
 
 
 
Abdullah, Saudi Arabia
"As a result of more than 50 years of experience, this school knows what the students really need. I really appreciate this school for helping me reach my goal of going to an American law school."
 
 
Asako, Japan
"To get into graduate school, the English for Academic Preparation program gave me great advice, resources and encouragement. It was the best choice for me to train at SF State's English for Academic Preparation program before pursuing my academic goal in the U.S."
Mohammed, Kuwait
"The English for Academic Preparation program at SF State is the greatest school for learning English because the classes are a comfortable place to meet students from many nations, and the staff are so welcoming and helpful. They have a lot of fun activities, parties and field trips."