About English for Academic Preparation
Since 1961, the American Language Institute (ALI) has provided high quality English language instruction and support to help students reach their future goals while studying in San Francisco, America's most beautiful and most international city.
The English for Academic Preparation program is located on the campus of San Francisco State University (SF State), a large and exciting urban campus with over 25,000 students and 300 fields of study.
Student Activities
Enjoy Life in San Francisco
Activities coordinators will take you to:
Enjoy sports events like SF Giants baseball and Golden State Warriors basketball
Visit famous places like The Golden Gate Bridge and Alcatraz
Concerts, street fairs and museums
Do other fun things such as rock climbing, bowling, golf and soccer
Practice Conversation with Americans
Conversation programs will help you practice English with SF State students. You can enjoy casual conversation on campus.
Volunteer in San Francisco
You can join other students and the volunteer coordinators to volunteer at different places in San Francisco such as the Stern Grove Festival concert series and Glide Memorial Church.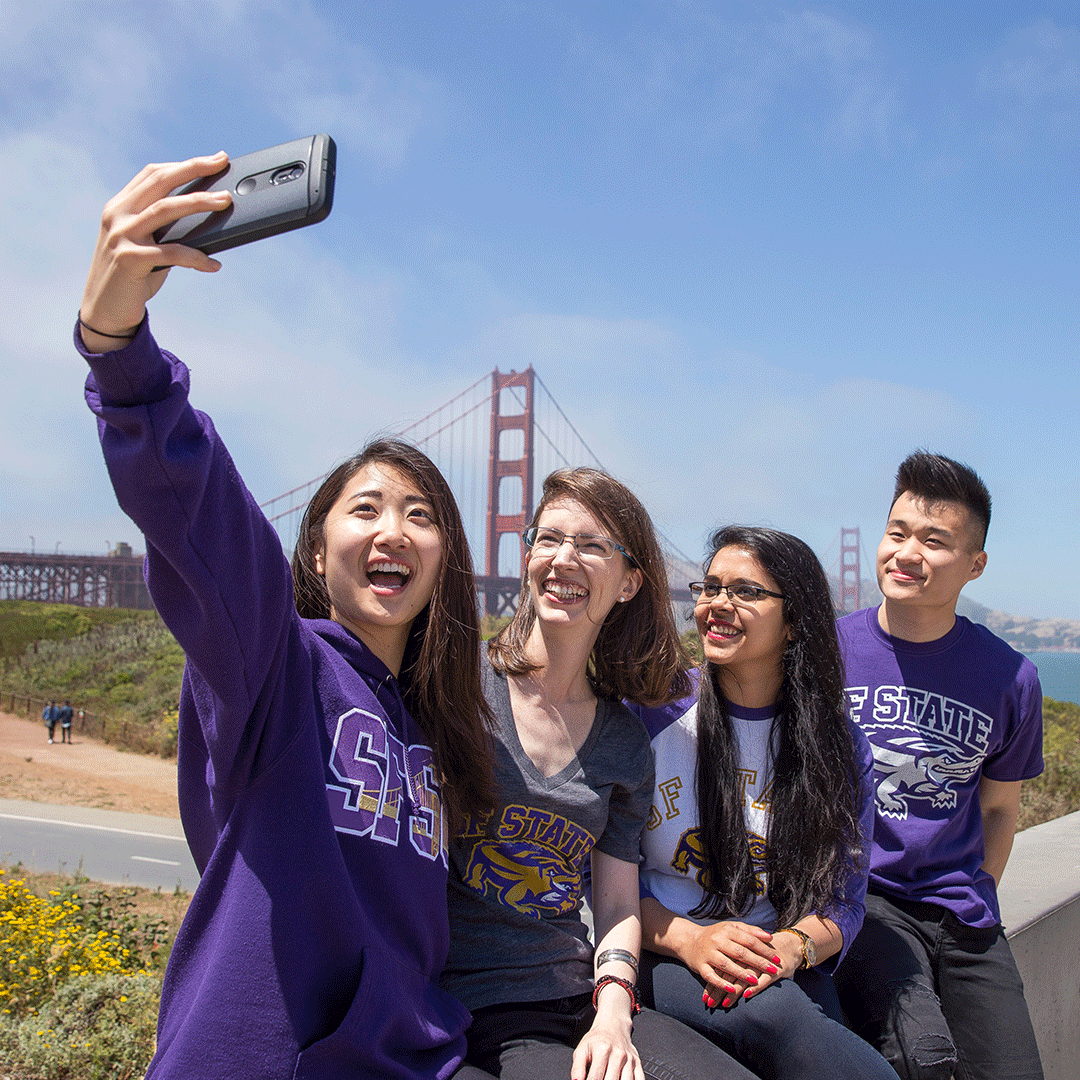 Earn University Credit while Exploring San Francisco
Enroll in AU 110: Living in San Francisco, a 1-unit course that introduces new students to the geographic, historical and environmental, socio-cultural and political context of the Bay Area, San Francisco and San Francisco State University. In addition, this course prepares students for success in their transition to living in San Francisco while preparing for life in San Francisco, building community, and learning about the campus and the surrounding area. The course is experiential and includes field trips throughout the city.
The in-person course is optional and is offered to you free of charge. You are encouraged to take it to learn more about and experience the City of San Francisco.
University Life
As an English for Academic Preparation ​program student, you can:
Meet SF State students as you study in classrooms throughout the SF State campus
Live on campus in university dormitories
Use university facilities, such as the library, gym, computer labs, and enjoy all the student cafes and restaurants
San Francisco
Everyone loves San Francisco because it is extremely beautiful and also because it is so international and welcoming to people from all over the world. International students immediately feel "at home" in this city.
San Francisco is not a big city — the population is around 830,000.
This city is full of colorful and interesting neighborhoods which you can easily explore by walking.
Today, San Francisco is at the center of the technology world. It is home to new and important technology companies such as Twitter, Pinterest, Linkedin, Dropbox, Uber and many, many more.
Mission
The mission of the American Language Institute at San Francisco State University is to serve English language learners and the university by providing:
English instruction that equips students with the language and strategies they need for academic success
Support services that empower students to make informed decisions about their academic and professional goals
Teacher education that prepares the next generation of skilled, reflective and dynamic TESOL professionals
In all its work, the ALI prioritizes quality, empathy and collaboration.