School Nurse Services Credential
School nursing is an area of nursing practice that requires specialized knowledge and training. To legally practice as a school nurse in California, the registered nurse must have a School Nurse Services Credential. Approved by the California Commission on Teacher Credentialing, this program will help the nurse who holds a California School Nurse Services Preliminary Credential to satisfy the program requirement to clear their credential, before the preliminary credential expires.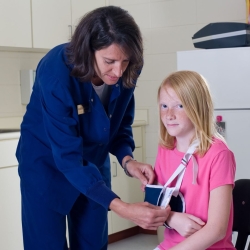 Curriculum
Find hybrid courses, faculty and roadmap
Apply
Admission requirements and application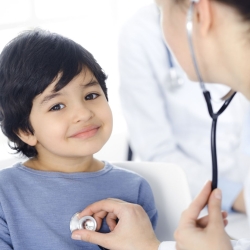 Brochure
Printable program information
About the Program
Program Learning Outcomes
Analyzes organizational and systems leadership skills to promote quality and safe health care.
Demonstrates advanced depth and breadth of nursing and related sciences and integrates this knowledge into practice.
Integrates clinical prevention and population health concepts in the design and delivery of health care.
Utilizes the principles of evidence-based practice to organize, implement and evaluate practice.
Integrates meaningful data from nursing, computer, communication and information sciences to coordinate and improve care.
Demonstrates understanding of how school-age youth may be impacted by health disparities perpetuated by implicit bias, educational policies and school health practices.
Partnership
The School Nurse Services Credential program is offered through SF State's School of Nursing under the College of Professional & Global Education and the Graduate College of Education.
SF State's School Nurse Services Credential program is aligned with the School of Nursing philosophy, mission and commitments to student-centered care, student safety, teamwork and collaboration, evidence-based anti-racist practice, quality improvement, informatics, leadership and lifelong learning.
School Nurses as Leaders & Change Agents
Credential candidates will have the opportunity to collaborate with other disciplines to provide compassionate and ethical care along the health-illness continuum to positively influence student health outcomes and academic success. Emphasis is placed on school nurses as leaders and agents of change by deconstructing, disrupting and dismantling systems of oppression through the nursing profession in the educational setting.
Cost & Length
SF State Cost: $11,000 total. There are 24 units in the program but only 22 units are taken at SF State. The current cost of the program is based on School Nurse Services Credential courses taken at SF State ($500/unit). Additional out-of-pocket expenses may include textbooks, travel, cost of Audiometry, etc. Costs are subject to change.
Length: 2 Semesters
News