Intervener Training: Deafblind Education
San Francisco State University and California Deafblind Services (CDBS) collaborate to offer this online, university-based training program to prepare paraeducators to effectively serve learners who are deafblind (i.e., a child who is both deaf/hard of hearing and blind/visually impaired). Interveners are paraeducators with specialized knowledge and skills in deafblindness. Trained interveners allow school districts and agencies to effectively meet the unique individualized support needs of students who benefit from intervention services.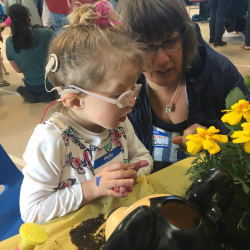 Online Certificate
Complete two online classes in eight months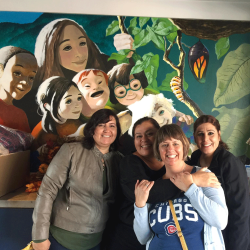 Online Class Schedule
Online classes currently offered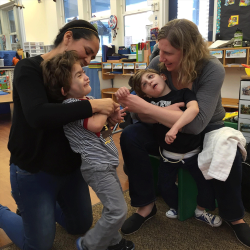 Brochure
Learn more about the program
News and Events
About the Program
Overview
Over the course of two semesters, students will engage in an online course of study using the rigorous and nationally recognized Open Hands, Open Access: Deaf-Blind Intervener Learning Modules. Students will complete the modules asynchronously, with three synchronous class meetings each semester.
Course instructors are deafblind specialists from California Deafblind Services, which is based at SF State. Upon successful completion of both courses, each participant will receive a university certificate of completion and nine SF State continuing education units (CEU).
Benefits
High-quality professional development for the paraeducator
Increased knowledge and skills for the paraeducator regarding the use of evidence-based practices for learners with deafblindness
Support staff that meet Council for Exceptional Children paraeducator competencies in the area of deafblindness
University certificate of completion of the SF State/CDBS Intervener Training Program
Recruitment Criteria
Only paraeducators, or those training for paraeducator or intervener positions, are eligible for this program. Teachers or others holding professional certification or credentials will not be admitted. This program is not intended for general training in deafblindness for families. Your state deafblind project can provide you with information about available training in deafblindness for families and teachers/specialists.
Desire to work with and support individuals with deafblindness
High school diploma (or equivalent)
Commitment to 2.5 hours of module participation per week for the two semesters
Basic internet skills, knowledge of computer functions and ability to use online communication tools (email, video conferencing and online learning platform)
How to Begin Taking Classes
To register, select your class on the Class Schedule, then click the "Add to Shopping Cart" button and follow the instructions to check out.
Payment is due upon registration.
Request a Certificate of Completion after both classes have been successfully completed.
Cost and Length
Cost: $480 ($240 per class)
Length: 8 Months
When to Start: Fall, Spring
What Students Say
Amber J., California
"This program is well organized and packed with helpful tools. I definitely feel more equipped to jump into the world of deafblindness. The instructors are so much more than your typical online program. Julie, Maurice and Christopher are true advocates for those that have a passion for this role. I truly believe their support will reach far beyond this course."
Amber R., California
"Taking this course really helped me better understand my student and her needs. The professors were there for support and help anytime I needed it. It didn't matter if I needed help with my course work or my actual job, they were willing to help by giving suggestions or just being there to listen. This is a great way to understand your role as an intervener better."
Michelle, California
"These modules are an invaluable tool when teaching deafblind students."