Certificate in the Liberal & Creative Arts
The Certificate in the Liberal & Creative Arts exposes students to the liberal and creative arts. Taking a wide range of courses, many of which are also general education courses, students gain broad exposure to the humanities, arts and social sciences. International students welcome.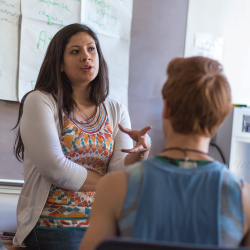 Certificate
Liberal & Creative Arts curriculum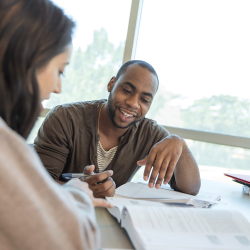 How to Apply
International students welcome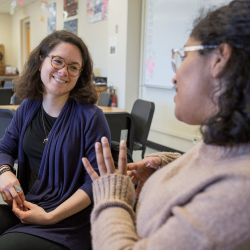 Brochure
Get the program information in a printable file
News & Events
About the Program
Why Enroll?
Students may enroll in this certificate as a gap year, study abroad program, standalone certificate or to complement their SF State major. Students will earn credits they can transfer to their home university or apply to future study and a certificate. International students who complete the program may stay in the United States for up to one year to complete internships or work.
Gain the fundamental competencies necessary for lifelong learning
Learn to critically evaluate information, as well as read, write and listen effectively.
Explore new disciplines
Choose from a variety of elective courses in media arts, humanities, social sciences and creative and performing arts.
Immerse yourself in art and culture
Study in San Francisco, a cosmopolitan and innovative center of visual and performing arts.
Living in San Francisco
Enroll, free of charge, in A U 110 Living in San Francisco to learn more about and experience the City of San Francisco.
Liberal arts education condensed
Eight courses total. Finish in just two semesters. Semester option available.
Optional Practical Training
Optional Practical Training (OPT) offers international students the opportunity to work up to one full year in the United States after nine months of full-time study. See Optional Practical Training.
Short-Term Study Abroad Opportunity
Academic certificate students will have the opportunity of engaging short-term study abroad program run by our international university partners either in winter or summer. Partial scholarship may be provided.
College of Liberal & Creative Arts
The College of Professional & Global Education offers this certificate in partnership with the College of Liberal & Creative Arts. The mission of the College of Liberal & Creative Arts is to inspire the next generation of thinkers, makers and doers. Our programs span the creative arts, humanities and social sciences, as well as the interstices between disciplines. As scholars and artists, advocates and practitioners, our faculty work at the intersection of education and community; they engage diverse bodies of knowledge, connecting learning and application to the broader society. Our students develop the ability to find patterns in data, to speak confidently in public settings, to write effectively and to think critically and ethically. Students in the College of Liberal & Creative Arts listen to the world, find their voices and envision a just future.
Cost and Length
Cost: $13,440 - $16,800, depending on units taken
Length: Two Semesters
When to Start: Fall, Spring