Cal State Apply is a Centralized Application Service (CAS) used to apply to San Francisco State University academic programs. Start by selecting a program that you want to apply to, complete the online application, upload your unofficial transcripts and application documents to the Program Materials section, and then submit your application. Once received by Cal State Apply, your application and materials will be processed and transmitted to the College of Professional & Global Education.
Prepare application materials in advance before starting the online Cal State Apply application. Application materials vary by program, and may require you to upload:
Unofficial Transcripts
English Language Proficiency Test Score Reports (For students whose primary language is not English)
Passport Copy (International Students Applying for an F1 Visa)
Financial Statement (International Students Applying for an F1 Visa)
Other materials that the program is requesting
In addition to any documents required by your program, you are also required to upload legible unofficial copies of transcripts from each college or university attended. Including study abroad coursework, or community college coursework, even if this coursework appears as transfer credit on your degree transcript. Full academic disclosure is required.
The College of Professional & Global Education will not accept any of the following submissions:
Illegible scanned documents
Photographs of transcripts
Damaged/Incomplete copies
Screenshots/screen captures of documents
Please take note of the following when uploading unofficial transcripts:
Scan transcripts and ensure that your document is readable and saved as a PDF
Include transcript Key/Legend
Ensure that the institution name and all other identifying marks are visible and clearly legible
An incomplete academic history will delay review of your application. If eligible for admission, you will be required to submit official transcripts to the College of Professional & Global Education in order to secure your admission to the program.
1. Select the term you wish to apply for and hit the Apply button

Tip: For Degree Goal choose:
First Bachelor's Degree, if you have not or will not earn a bachelor's degree by the start of the certificate. Respond to the follow-up question according to your education history.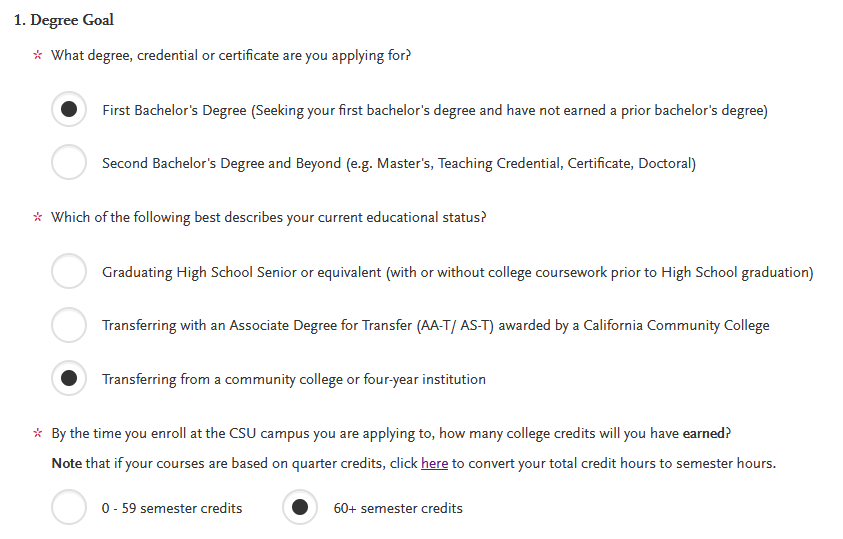 Choose Second Bachelor's degree and beyond, if you have or will earn a Bachelor's degree by the start of the certificate. Then, choose 'Certificate' in the following question.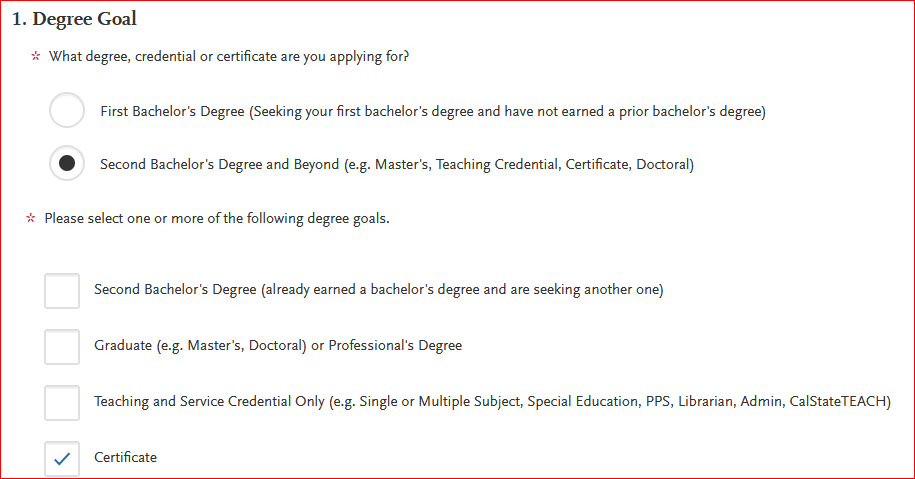 Tip: If you are planning to study on a F1/J1 visa, you must select Non-Resident for U.S. Citizenship Status under your Extended Profile to see applications available for international students.

3. Select the program that you want to apply to:
Under the "Add Program" tab, narrow your program options using the provided filters.
Campus: Select "San Francisco State"
Start Term: Select the term you wish to apply for: Spring, Summer or Fall
Source: Select "Extended Education"

4. The Online Application is comprised of four sections - Review our TIPS for completing each of these sections:

a. PERSONAL INFORMATION TIPS
Please provide us with some basic information.
Fields noted as Optional may be skipped.

b. ACADEMIC HISTORY TIPS
Please complete applicable academic history information using this section.

c. SUPPORTING MATERIALS TIPS
You may opt out of this section, by selecting "I Am Not Adding Any Experiences" in this section of the application.  However, if you would like to provide any work experience, volunteering or internship experience as part of your application, you may include it in this section.

d. PROGRAM MATERIALS TIPS
Prepare any required and non-required documents for upload in advance of your application submission.
You may need to resize any scanned PDFs so that you do not exceed the MB limit for each document.