Gateway: English + University Credit Studies
Gateway is our highest level, which allows you to develop your language skills at the American Language Institute (ALI) and take an academic class at San Francisco State University.
Level 90 Gateway
Improve your English and academic skills for university success
Take an SF State course for credit
Receive support to understand and complete your university course assignments
Level 90 is the highest English level in our English for Academic Preparation curriculum
Offered in spring & fall
Online Courses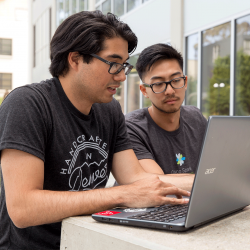 Offered Online for Spring 2021
In response to the COVID-19 pandemic, ALI courses and SF State courses are offered online, with live instruction using Zoom.
About Gateway
Requirements
ALI Students
Level 70: Must pass ALI Level 70 classes with a B average and have minimum TOEFL ITP 475, TOEFL iBT 53 or IELTS 6.0
Level 80: Must pass ALI Level 80 classes with A, B or C grades. There is NO TOEFL or IELTS score requirement
New Students
Direct admission with minimum score of TOEFL iBT 61 or IELTS 6.0 within last 24 months OR
Admission based on ALI level placement speaking and writing assessments and minimum TOEFL ITP 500
New students must attend orientation
Spring 2021 Dates & Tuition
Dates
Gateway: Wednesday January 20 - May 14, 2021 
SF State Spring Semester: Monday January 25 - May 21, 2021 (last day of finals)
SF State Class Registration Information Meeting: Wednesday, January 13 and Thursday, January 14, 2021 
New Student Orientation: Friday January 15, 2021 
All Student Meeting: Tuesday January 19, 2021 
Tuition (ALI + SF State)
ALI Tuition + SF State (3 unit) Open University Tuition = $5,995 10% Discount ➜ $5,396 (subject to change)
Students can take an additional SF State course for $395 per unit.
Spring 2021 Curriculum & Schedule
Curriculum
Curriculum & Dates

| Curriculum | Date |
| --- | --- |
| Gateway Skills (8 hours of instruction a week) | January 20 - May 14, 2021 |
| English Tutorial (4 hours of instruction a week) | January 20 - May 14, 2021 |
| ALI Elective (4 hours of instruction a week) | January 20 - May 14, 2021 |
| College Success Skills (2 hours of instruction a week) | January 20 - May 14, 2021 |
| One SF State course (3 units) through Open University | January 20 - May 21, 2021 |
Schedule (Subject to Change)
Weekly Schedule
Times
Pacific Time Zone
Monday
Tuesday
Wednesday
Thursday
Friday
8 a.m. - 3 p.m.
Open time to take SF State Class
Open time to take SF State Class
Open time to take SF State Class
Open time to take SF State Class
Open time to take SF State Class
3 p.m. - 4:50 p.m.
Gateway Skills Class
Gateway Skills Class
Gateway Skills Class
Gateway Skills Class
Tutorial
5 p.m. - 5:50 p.m.
Tutorial
College Success Skills
Tutorial
College Success Skills
 
6 p.m. - 8:45 p.m.
Open time to take SF State class
Open time to take SF State class
Open time to take SF State class
Open time to take SF State class
 
8:50 p.m. - 9:40 p.m.
ALI Elective
ALI Elective
ALI Elective
ALI Elective
 
What Students Say